Do Dryers Require GFCI Protection? Yes, Here's Why (NEC req.)
A GFCI is a fast-acting circuit breaker designed to shut off electric power in the event of a ground fault within as little as 1/40 of a second, eliminating potential risks when operating a dryer.
Dryers and appliances operating in areas where there is potential for electrical faults require GFCI protection. Dryers usually operate in areas where there is water, which has the potential to get into electrical circuitry and can cause faults and potential shocks, deeming it necessary to have them connected to a GFCI.
This article will explore the regulations surrounding GFCIs and dryers and discover where GFCIs are required by The National Electrical Code (NEC).
Do Dryers require GFCI protection?
A dryer needs GFCI protection to minimize the chances of electrocution associated with electrical faults or shorts when in operation.
Ground Fault Circuit Interrupter, commonly known as GFCI, is a circuit breaker commonly used in many households to shut off power in less than a second completely.
Different from a house fuse, GFCI protects users and prevents electrocution.
As for 220v circuits, they do require GFCI protection in certain situations, such as when they are located near water sources or outdoors.
Why do Dryers Require GFCI Protection?
Here are 6 reasons why dryers should be connected to a GFCI:
1. Laws for Residential GFCI Protection
In many countries, some laws make it necessary for contractors to ensure GFCI outlet requirements in commercial and residential buildings. Installing such outlets primarily aims to eliminate the chances of electric shocks.
NEC doesn't specify washers and dryers, but with the changes made to it in 2020, it may also require that dryers also must have GFCI protection.
If the receptacle is in a specific location of the laundry, it triggers both the washer and dryer. In 2020, it was only 15 and 20-amp, 120-volt receptacles, but now it includes 125 volts to ground and can go up to 50 amps. That's how the dryer is included.
2. Receptacles That Need GFCI
In homes, the GFCI requirement is usually extended to cover receptacles with a voltage between 125 and 250 volts. This covers all the receptacles in basements, whether finished or unfinished. It also covers laundry areas. Therefore, electric dryers will require GFCI protection.
3. Ground and Neutral Wires
Many available electric dryers in the market come with in-built connect ground and neutral wires. These have to be separated for GFCI protection. Not only that but in coin laundry facilities and other laundry areas, it is necessary for all dryers to include GFCI.
4. Residential Buildings
Dryers that are used in residential buildings will require GFCI protection as well. Most residential dryers have a voltage rating of 220 Volts. This means that the dryer receptacles will need GFCI protection to prevent electrocution.
GFCI requirement also extends to receptacles that are within 6 feet of a sink. Most laundry areas in homes have a sink, so the dryer needs GFCI protection.
5. Immediate Power Shut Off
If the GFCI is installed properly, it can immediately shut off the electric power as the fault tool is plugged in. In case the dryer is faulty and has GFCI protection, the electric power will be cut off, and the user will be saved from electric shock.
6. Overheating Prevention
A dryer also needs GFCI protection to prevent overheating. A faulty appliance can cause an increased flow of current that can overheat the appliance and cause damage. When GFCI protection is used, the chances of overheating are significantly reduced.
How Does a GFCI Receptacle Work?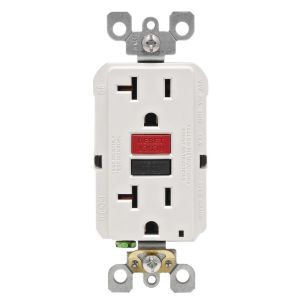 A GFCI receptacle works by monitoring electric current imbalances between the hot and neutral conductor, shutting off the circuit if an imbalance is detected. It utilizes a built-in sensor that constantly compares the incoming and outgoing currents within the circuit.
When an imbalance occurs, it suggests a potential leakage of current, which could result in electrical shocks or even electrocution. To prevent such hazards, the GFCI protection device swiftly shuts off power to the outlet within milliseconds.
Doing so ensures your safety by interrupting any flow of electricity that deviates from what is expected.
Do 220v circuits require GFCI?
GFCI is necessary for safety on 220v circuits in certain situations. According to the National Electrical Code (NEC), GFCI protection is required for 220v circuits located in areas with a high risk of electrical shock, such as bathrooms, kitchens, and outdoor areas.
This requirement protects individuals from potential harm caused by ground faults or electrical current leakage.
It's important to note that not all 220v circuits require GFCI protection.
The NEC specifies specific circumstances when GFCI protection is necessary, primarily focusing on locations where water may be present or where electrical equipment may come into contact with conductive materials such as water.
These requirements aim to prevent electric shocks and reduce the risk of electrocution.
Where to Put a GFCI In Your Laundry Room
When placing a GFCI outlet in your laundry room, consider the proximity to your washer and dryer for easy accessibility. This is crucial for convenience and safety, as it allows you to reset or test the outlet easily.
Here are some key considerations when deciding where to put a GFCI outlet in your laundry room:
Placement near the washing machine:
Having a GFCI outlet close to your washing machine ensures that any electrical appliances used during the laundry process can be safely plugged in.
Accessibility for maintenance:
It is important to place the GFCI outlet in an easily accessible location so that it can be readily reached for maintenance or repairs.
Distance from water sources:
Ensure that the outlet is placed at a safe distance from any water sources, such as sinks or pipes, to prevent potential electrocution hazards.
Visibility and reachability:
Opt for a location where the GFCI outlet is clearly visible and within reach, allowing you to quickly identify any issues and take appropriate action.
Where Are GFCIs Required?
Receptacles located within 6 feet of the a sink's edge must be protected by GFCI. This requirement ensures the safety of individuals using electrical appliances near water sources, such as sinks.
The NEC mandates GFCI protection in many areas of the home:
bathrooms,
garages,
outdoor receptacles,
crawl spaces,
basements,
kitchens and anything within six feet of a sink or water source.
It is important to note that this regulation applies to all receptacles, not just those in proximity to sinks. As of the 2020 National Electrical Code, even dryer receptacles operating at 250 volts are required to have GFCI protection.
Does A Dryer Need A Dedicated Circuit?
In our previous discussion about GFCIs, we explored the locations where they are required. Now, let's shift our focus to an important question: does a dryer need a dedicated circuit? The answer is yes, and here's why:
Power requirements:
Dryers typically draw significant amounts of power to operate efficiently. A dedicated circuit ensures that the dryer has access to the necessary electrical supply without overloading other circuits in your home.
NEC regulations:
The National Electrical Code (NEC) mandates that laundry appliances like dryers should have their own dedicated circuit for safety reasons. This regulation helps prevent electrical hazards and reduces the risk of fires or damage to your electrical system.
Circuit capacity:
By having a dedicated circuit for your dryer, you can ensure that it has enough capacity to function optimally without causing voltage drops or tripping breakers.
Can a Dryer Share An Outlet With A Washing Machine?
Yes, a dryer can share an outlet with a washing machine if they are compatible and meet the necessary electrical requirements.
Both appliances usually require a dedicated circuit due to their high power consumption. The circuit specifications for a dryer usually include a 240-volt supply and a minimum of 30 amps.
Ensuring that the shared outlet can handle this load without overloading or causing safety hazards is crucial. If the existing outlet does not meet these requirements, installing a new one or consulting an electrician for proper wiring adjustments may be necessary.
How Close Can A Dryer Be To An Electrical Panel?
According to the NEC, a dryer or any appliance should be greater than 3 feet away from an electrical panel.
The National Electrical Code (NEC) specifies the minimum distance required between a dryer and an electrical panel to ensure safety. According to the NEC regulations, there should be at least 3 feet of clearance in front of the electrical panel.
This clearance is necessary for easy access and maintenance of the panel. Additionally, there should be no obstructions within this space that could hinder the safe operation of the electrical panel.
Frequently Asked Questions
Can I install a GFCI outlet for my dryer myself, or do I need to hire a professional?
You should hire a professional to install a GFCI outlet for your dryer. It requires knowledge of electrical systems and safety protocols. A professional will ensure proper installation and minimize the risk of electrical accidents or damage.
Is using an extension cord with a dryer safe?
Using an extension cord with a dryer is unsafe, even if there are no nearby outlets. Extension cords can overheat and cause fires due to the high power demand of dryers.
What are the consequences of not having GFCI protection for a dryer?
Without GFCI protection for a dryer, there is an increased risk of electrical shock or fire. GFCI protection ensures that any ground faults are quickly detected and the power is shut off, preventing potential accidents and damage.
Are there GFCI Alternatives for a Dryer?
If GFCI protection is not feasible for your dryer, you can use alternative safety measures, such as installing a ground fault breaker in the electrical panel or using an isolation transformer to reduce the risk of electrical shock.
Key Takeaways
GFCI protection is required for 220v circuits in certain situations, especially in areas with water or conductive materials.
GFCI outlets should be placed within six feet of any sink or water source in the laundry room but at a safe distance from water sources.
It is recommended to have a dedicated circuit for a dryer to ensure optimal performance and prevent overloading.
Dryers require a dedicated circuit for safety reasons, to prevent electrical hazards, and system damage, and to ensure optimal performance.