Does A Gas Dryer Need Electricity? The Must-have Connections
Are you considering getting a gas dryer and wondering if it needs electricity? Well, the answer is yes!
A gas dryer needs electricity to power the lights, controls, clothes drum, fan, heating element, and motor (which turns the drum). A 120V plug and outlet is the most common electrical connection for a gas dryer. Electrical grounding is also necessary to prevent electrical short-circuiting and shocks.
In this article, we'll explore why a gas dryer requires electricity, what voltage it uses, and how much electricity it consumes.
Why Does a Gas Dryer Need Electricity?
You might be wondering why your gas dryer still needs electricity to function properly. Well, let me enlighten you.
While it's true that the heat in a gas dryer is generated by burning gas, there are several key components that require electricity to operate efficiently.
1. Fan Blower –
The fan plays a crucial role in circulating hot air throughout the drum, ensuring even and speedy drying.
2. Ignighter –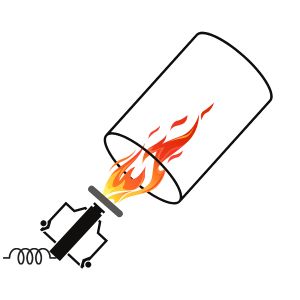 The igniter is responsible for igniting the gas burner and initiating the heating process.
3. Control panel –
The control panel controls the different functions of the dryer and allows you to select different settings and monitor the progress of your laundry cycle.
4. The Motor –
The motor is an essential part of a dryer and is required to spin the drum full of clothes when the drying cycle is activated.
The motor draws most of the 110/120V current when the dryer is in service because of the power that is required to turn the drum of undried clothes.
So even though it may seem counterintuitive, electricity remains essential in making your gas dryer perform at its best.
What Voltage Does a Gas Dryer Use?
The voltage used by a gas dryer is typically 120 volts, which does not require a 240-volt outlet like electric dryers. This standard voltage allows for the efficient operation of the essential components in the gas dryer.
Here are three key points about the voltage requirements for a gas dryer:
Powering the drum motor:
The drum motor is responsible for rotating the laundry inside the dryer. It requires electricity to operate smoothly and efficiently.
Operating the control panel:
The control panel on a gas dryer allows you to select different drying settings and monitor your laundry's progress. Electricity powers this panel, enabling you to tailor your drying cycle conveniently.
Supporting additional features:
Some advanced gas dryers come with extra features such as steam cycles or sensor technology. These features also rely on electricity to function effectively.
How Much Electricity Does a Gas Dryer Use?
To operate the drum, fan, lights, and controls, a gas dryer typically uses a standard 110/115-volt outlet.
While gas dryers require electricity to power these components, their overall electricity consumption is generally lower than that of electric dryers.
According to Energy Star, gas dryers use approximately 50% less electricity than electric models. This means that not only will you save on your energy bills, but you'll also be reducing your carbon footprint.
To give you a better idea of the electricity usage of a gas dryer compared to an electric dryer, here's a table showcasing the estimated annual kilowatt-hour (kWh) usage for both types:
| Type | Gas Dryer | Electric Dryer |
| --- | --- | --- |
| Average | 150 kWh | 300 kWh |
| High-End | 200 kWh | 600 kWh |
| Low-End | 100 kWh | 150 kWh |
From the table above, gas dryers consume significantly less electricity compared to their electric counterparts.
Does a Gas Dryer Plug Into a Special Outlet?
When it comes to installing a gas dryer, understanding the electrical connections, outlet requirements, and grounding is crucial.
The dryer has a three-prong plug to help guard against shock. The plug should be placed into a properly grounded three-prong receptacle rated 120 Volts AC (alternating current)15 Amps.
To be properly and fully effective, this plug must be plugged into a properly installed outlet grounded in accordance with all local codes and standards.
Electrical Connections
First, ensure you have a power cord compatible with your gas dryer's electrical connections. The power cord is essential for providing the necessary electricity to operate the various components of your gas dryer.
Here are two important things to consider when it comes to electrical connections:
Properly ground the dryer:
Ensure that the green wire from the power cord is securely connected to the grounding screw on the metal frame of the dryer.

This step is crucial for safety reasons as it helps prevent electric shock in case of any malfunction.
Connect to a 120-volt outlet:
Gas dryers typically require a standard 120-volt outlet to power their operations efficiently. Make sure that your chosen outlet can provide this voltage and matches your specific gas dryer's requirements.
Outlet Requirements
The outlet should be designed for it to fit a standard 120V plug.
A typical 120V plug has 3 holes. 2 of them are parallel rectangle holes. 1 of them is connected to the live wire, and the other to the neutral wire. The third hole is round and connected to the ground wire.
A typical 120V outlet has 3 holes. 2 of them are parallel rectangle holes. 1 of them is connected to the live wire, and the other to the neutral wire. The third hole is round and connected to the ground wire.
The outlet should be away from any source of water that could cause short-circuiting. The outlets should be covered or shielded to prevent water from splashing into the holes.
They will have the expertise to determine whether your outlet adheres to the required standards and make any necessary adjustments or replacements.
Grounding
Grounding is an essential safety measure that provides a path for electric current to flow safely into the ground in case of any faults or malfunctions.
Without proper grounding, there are potential risks involved when using a gas dryer.
Firstly, any electrical leakage or fault can make the appliance electrified if there is no ground connection. This poses a significant danger as it can lead to severe electrical shock when touching the dryer or other connected metal parts.
Not having a properly grounded outlet may also lead to increased chances of fire hazards due to electrical arcing or short circuits.
Therefore, always ensure that your gas dryer is plugged into a correctly grounded outlet for optimal safety and peace of mind.
Gas Dryer: Pros and Cons
If you're considering a gas dryer, you'll enjoy faster drying time and increased energy efficiency.
| Pros of Gas Dryer | Cons of Gas Dryer |
| --- | --- |
| 1. Faster Drying: Gas dryers tend to heat up more quickly than electric dryers, leading to shorter drying times for your laundry. | 1. Installation Costs: Gas dryers usually require a gas line to be installed, which can add to the upfront costs if your home doesn't already have one. |
| 2. Energy Efficiency: Gas dryers are often considered more energy-efficient compared to electric dryers, as natural gas is often cheaper than electricity, resulting in potentially lower operating costs. | 2. Ventilation Needs: Gas dryers require proper ventilation to expel combustion byproducts safely. Ensuring proper ventilation can be more complex compared to electric dryers. |
| 3. Lower Operating Costs: As mentioned earlier, natural gas costs are typically lower than electricity, which can lead to lower overall drying costs in the long run. | 3. Maintenance: Gas dryers may require more maintenance due to the combustion components involved. This includes cleaning the lint trap, checking the gas line for leaks, and ensuring proper ventilation. |
| 4. Durability: Gas dryers often have a longer lifespan and are known to handle heavy loads, and frequently use better than electric dryers. | 4. Space Constraints: Gas dryers can be bulkier and require more gas line and venting system space. If you have limited space, this could be a challenge. |
| 5. Heat Intensity: Gas dryers can produce higher heat levels, which can be more effective at sanitizing and disinfecting laundry items, such as towels and bedding. | 5. Initial Cost: Gas dryers usually have a higher upfront cost compared to electric dryers. This can be a deterrent for those looking for more budget-friendly options. |
| 6. Performance: Gas dryers often perform better in reducing wrinkles and static, resulting in less ironing and softer laundry. | 6. Availability: In some areas, gas lines might not be readily available, making it difficult to install a gas dryer. |
| 7. Resale Value: Homes equipped with gas lines and appliances, like gas dryers, can potentially have higher resale value due to the perceived benefits of energy efficiency and performance. | 7. Environmental Considerations: Natural gas burns cleaner than other fossil fuels but is still a non-renewable resource and contributes to greenhouse gas emissions when burned. |
Despite these drawbacks, many people find the faster drying time and increased energy efficiency of gas dryers well worth the investment.
Frequently Asked Questions
Can a gas dryer be used without electricity?
No, a gas dryer cannot be used without electricity. While the gas provides the heat needed to dry clothes, electricity is required to power the control panel, motor, and other components of the dryer.
What are the safety precautions to consider when using a gas dryer?
Always follow these precautions to ensure safety when using a gas dryer:
1) Install a carbon monoxide detector.
2) Keep the area well-ventilated.
3) Regularly inspect and clean the dryer's venting system for lint blockage.
4) Have a professional perform maintenance checks annually to prevent gas leaks.
Can a gas dryer be converted to an electric dryer?
Yes, a gas dryer can be converted to an electric dryer. However, this requires professional assistance as it involves rewiring and making modifications to the appliance. It's important to consult with a licensed technician for this process.
The Takeaways
A gas dryer requires electricity to operate key components such as the fan, igniter, and control panel.
Gas dryers typically use 120 volts of electricity and do not require a 240-volt outlet like electric dryers.
Gas dryers consume less electricity than electric models, lowering energy bills and reducing carbon footprint.
Proper grounding of the gas dryer is essential for safety, as it provides a path for electric current to flow safely into the ground and reduces the chances of fire and electric shock hazards.